Monday, August 18th, 2008
My son Jake is obsessed with Bob the Builder. So for his 3rd Birthday Party I could think of nothing better than to have a construction party 🙂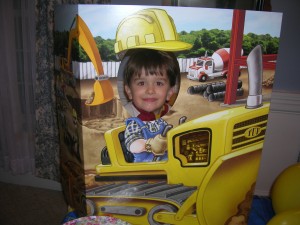 We did fun activities like have the kiddos create and decorate their toolboxes and construction hats.
Because the kids were so young we set up little centers.
We did:
Construction relay on little toy vehicles for a construction lollipop at the end
Dig for the Pig (We got little construction pigs, and hid them in the sandbox) The kids dug until the found one for their tool box.
Pin the construction cone on the map game.

For Jake's first non family party, we had a great time!! Our little boy is getting so big.