Archive for October, 2009
Thursday, October 29th, 2009
Sunday, October 18th, 2009
Jonas V. Kozlek's 1st Birthday
Jonas is my Pumpkin Baby. He was born on a cold day at the end of October.  For his first Birthday Party, I decided to have a Classic Halloween event. So all the adult and children could play some classic Halloween/Fall games. This party was very low key. We had  lunch catered by Damon's restaurant. They have an awesome takeout menu, and it really made the day care free. I highly recommend their artichoke spinach dip!   We gave out Mrs. Prindable's candy apples as favors to the  Family and Friends who came  to celebrate our second son's special day. It surprisingly snowed the weekend we were hosting his party. So everything  had to be indoors. I had the house decorated for Halloween with a few baby's first birthday farm themed plates and table clothes.  One of my favorite decorations was a white pumpkin with Happy First Birthday Jonas and Picture of him decoupaged on.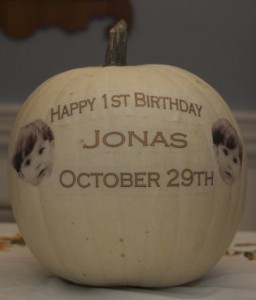 Some highlights of the day included:
1. No Hands Donut Eating Contest or Fishing for Children:


2. Pumpkin Decorating:


3. Various Halloween Games such as ring toss, and this golfing/ping pong ball game Vince and I created: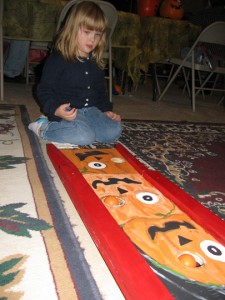 and of course Baby's First Cake!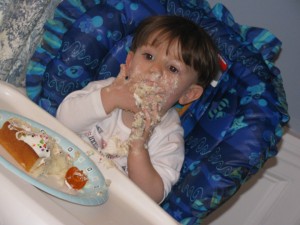 Happy Birthday Baby!